I spent the last month traveling in Chiang Mai, Thailand meeting other people doing location independent work (aka digital nomads).
While living there I worked on my online course, Land a Job in China and took time to travel around the area and see some of the sites.
This is a guide for those interested in spending some time in Chiang Mai either for work or play or both.
In this Chiang Mai travel guide you'll learn about:
Where to Stay – great apartments available for less than $170/month
What to See & Do – Temples, waterfalls, etc.
Food – Khao soi is particularly delightful
Transportation – Rent a motorbike
Thai Language – 1: Neung, 2: Song, 3: Saam
Working in Chiang Mai – Chiang Mai is ideal for starting an online business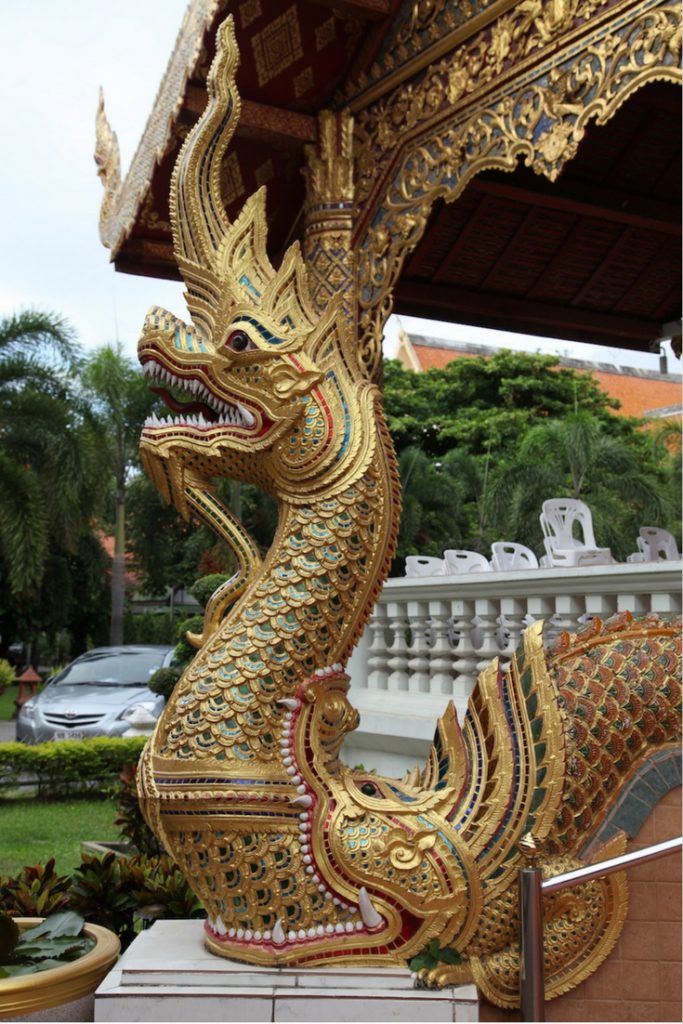 Where to Stay
Hostels and Hotels – There are hundreds of hotels and hostels around the city. A room in a dorm costs about 300 baht ($10) or 600 baht for your own room. I stayed at the Bakeroom Hotel on Nimman Haemin Soi 17 for 300 baht per night when I first arrived in Chiang Mai.
Apartment – If you are staying in Chiang Mai for more than a couple weeks, I highly recommend renting an apartment. I rented a studio apartment at a place called Baan Thai (see map for location below) for a month with a pool for 5,700 baht ($167). It was clean and had a fridge, bathroom, working air conditioner and hot shower.
The staff was very helpful. When I first moved in the air conditioner didn't work quite right so they helped fix this right away. I was able to rent some nice pink bedding for 400 baht ($13).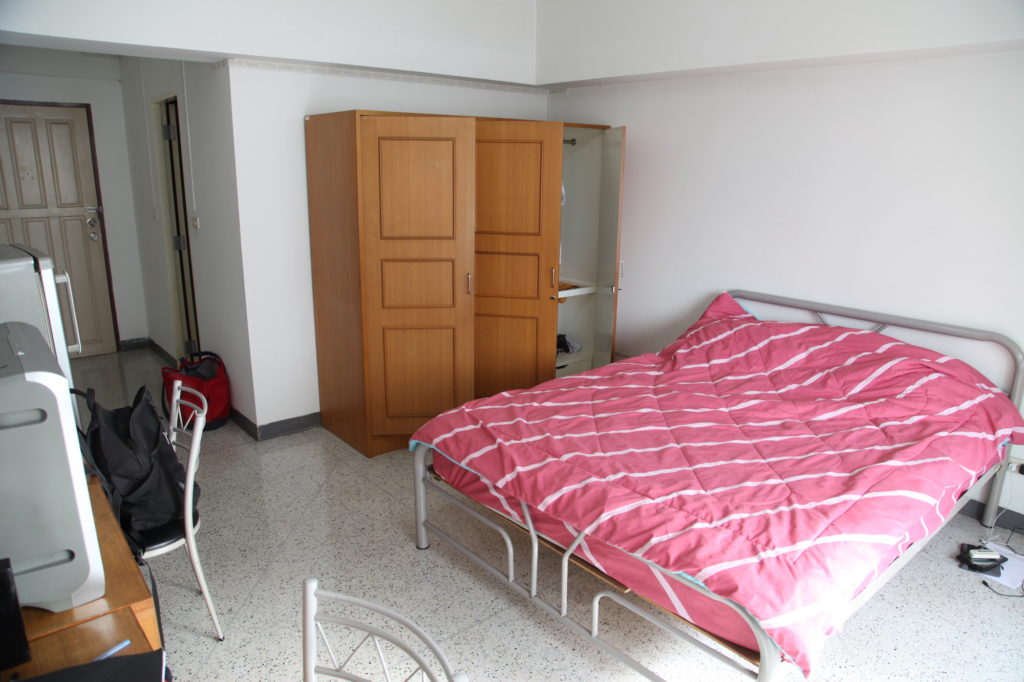 Baan Thai Studio Apartment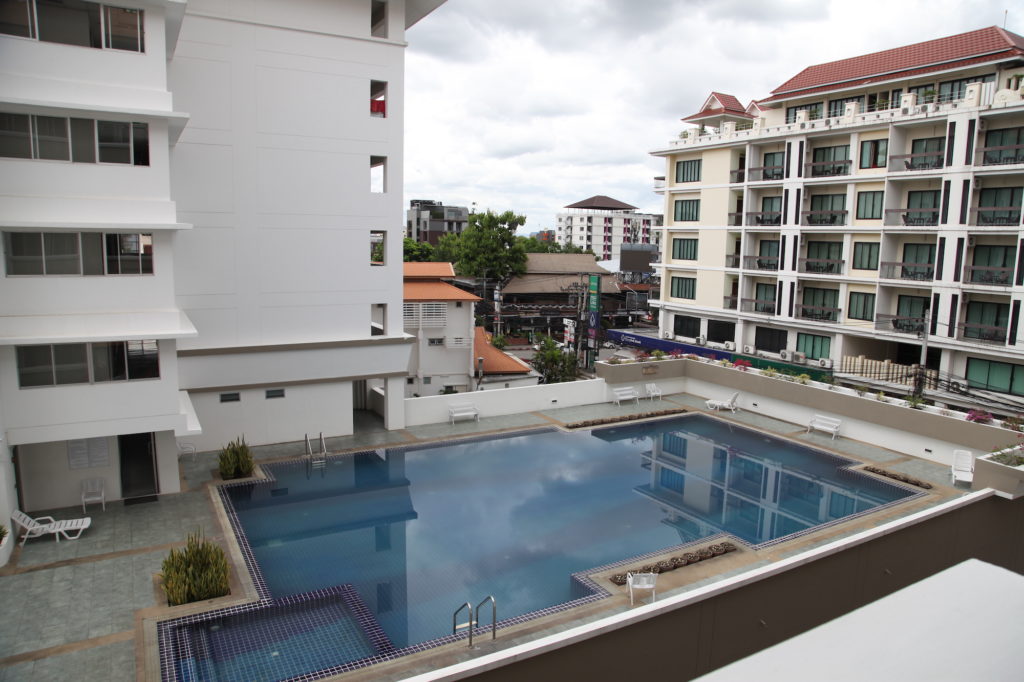 Just wait 'til you see the pool
What to See and Do in Chiang Mai
Temples – There are tons of Buddhist temples in and around Chiang Mai, especially in the old city. The old city of Chiang Mai forms a square in the center of Chiang Mai and is surrounded by a moat, and old city walls in some places.
Many of the temples are around 700 years old and were built during the time of Lanna kingdom. Chiang Mai was the capital of Lanna for roughly 500 years.
Most temples are free of charge. Of the half dozen I visited only one had an admission fee and it was only 20 – 40 baht ($0.66 – $1.33).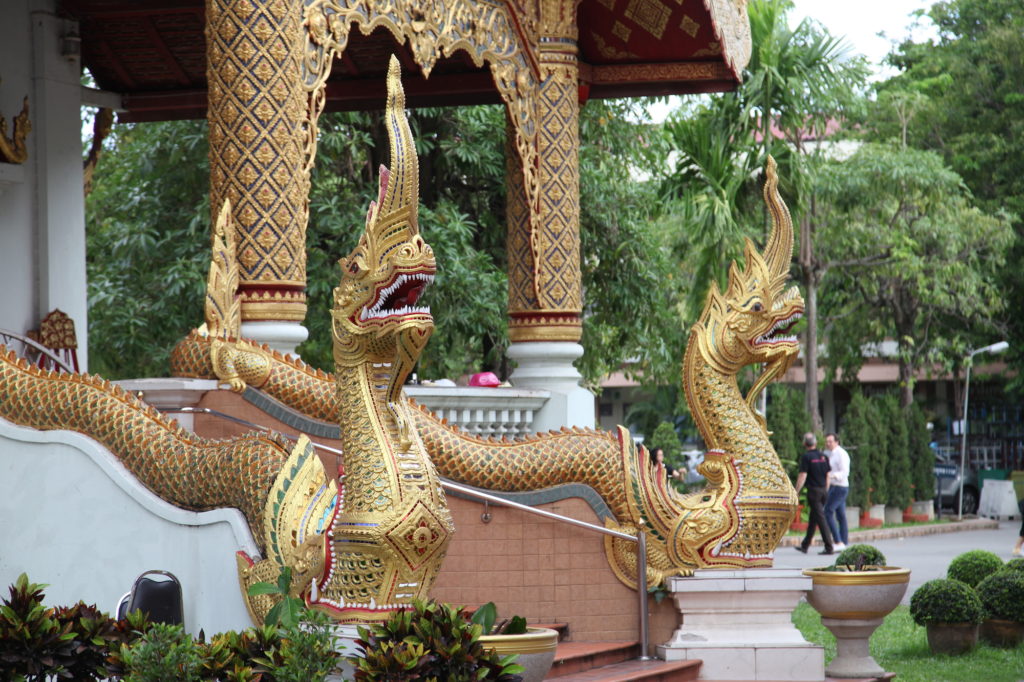 Wat Phra Singh
Wat Suan Dok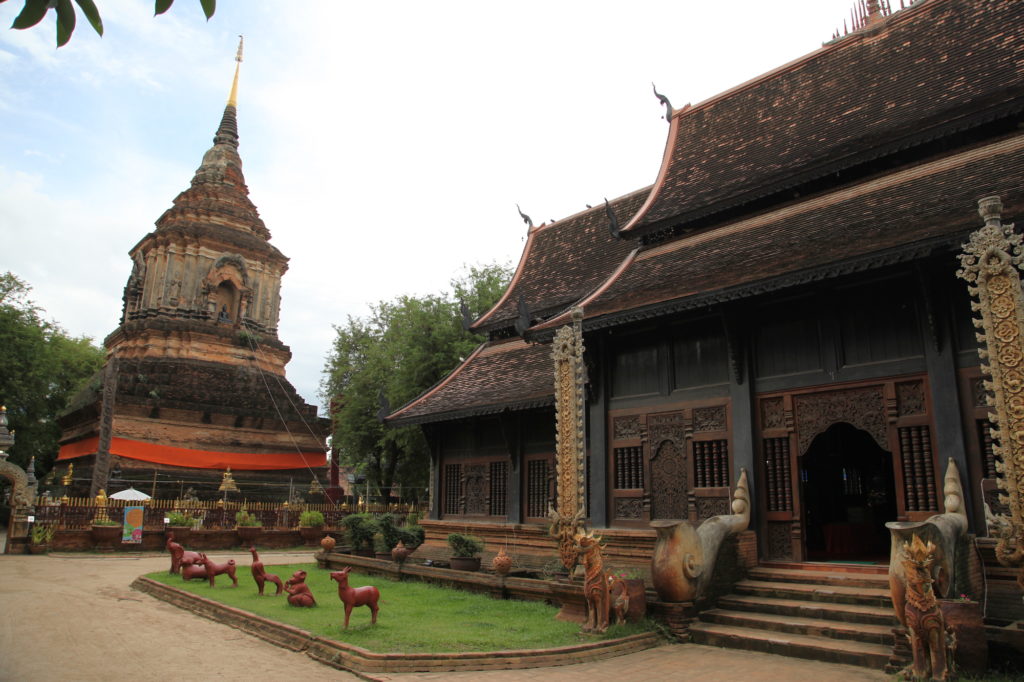 Wat Lok Moli
Mountains and Waterfalls – In addition to the beautiful temples of Chiang Mai, there are many mountains and national parks surrounding Chiang Mai. Each is filled with lush vegetation, waterfalls, and epic vistas.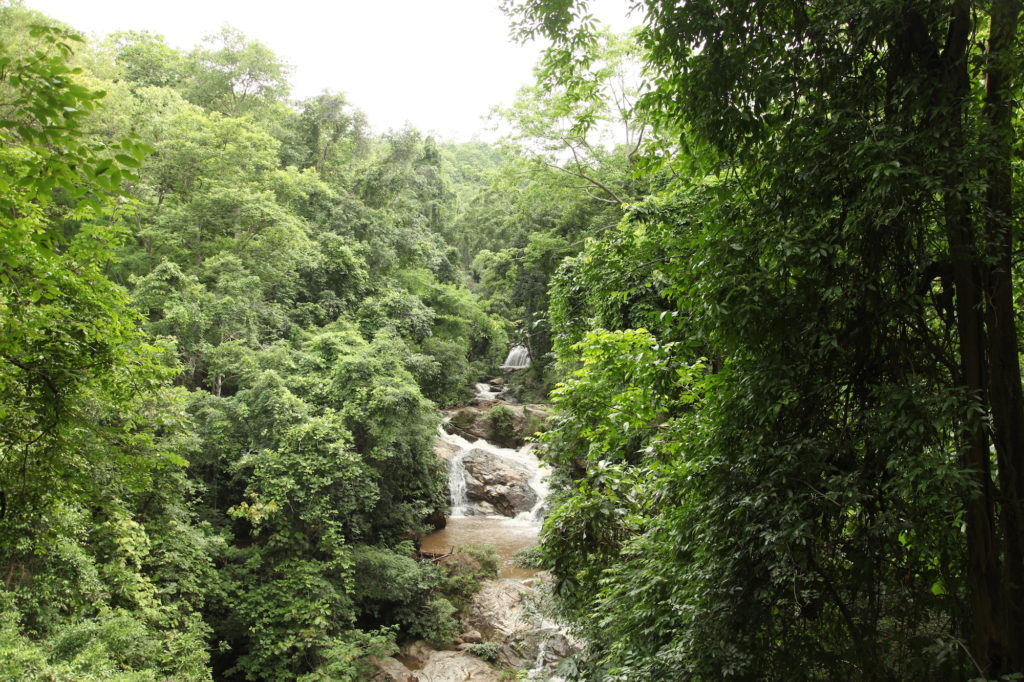 Mae SA Water Fall National Park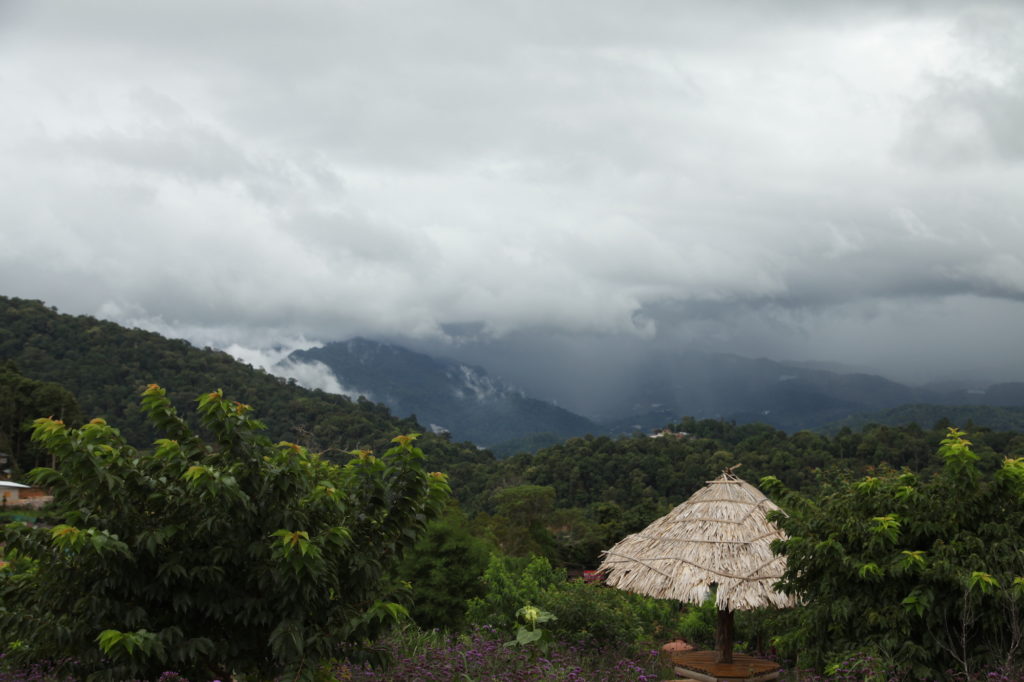 View from Moncham Village
Immediately to the east of Chiang Mai is Doi Suthep, which is a big mountain with some temples at the top. The view from Doi Poi near Bhuping Palace is excellent. Roads weave through the mountain, so you can drive a motorbike up.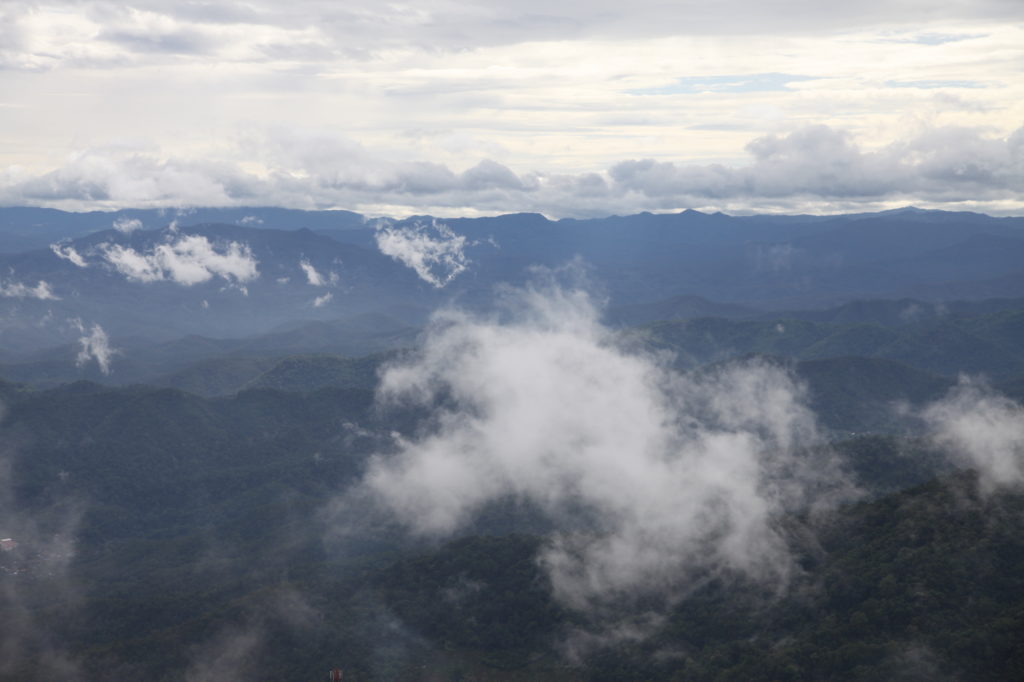 Doi Poi Viewpoint
I recommend renting a motorbike for 100 – 300 baht ($3 – $10) per day and exploring the countryside.
Sites Around Chiang Mai
Doi Inthanon – Doi Inthanon is the highest peak in Thailand at 2,565 meters.
Tiger Camp – Get your picture taken with tigers at a tiger camp north of Chiang Mai in Mae Rim town.
Maesa Elephant Camp – Visit elephants north of Chiang Mai. This is also in Mae Rim. Mae Rim is a 15 minute motorbike ride from Chiang Mai, though the elephant camp is almost an hour away by motorbike.
Mae Kampong Village – Do a homestay in an eco-tourism village in the jungle an hour west of Chiang Mai. I didn't hear about this until my time in Chiang Mai was almost up, but this is at the top of my list for when I visit again.
One of the best travel experiences I ever had was at an eco lodge in Yunnan, China. So I'm curious about exploring anything with "eco" in the name now.
Food
The food in Chiang Mai is excellent. In addition to Thai food like curry and pad thai, there are all types of foods, like Chinese, Japanese, and Italian.
My favorite dish is khao soi, a noodle soup in a spicy broth with your choice of meat.
The other great part about eating in Thailand is that it's cheap. Almost every Thai dish can be had for around 40 baht ($1.33). Upscale restaurants cost more: 60 – 100 baht ($2 – $3).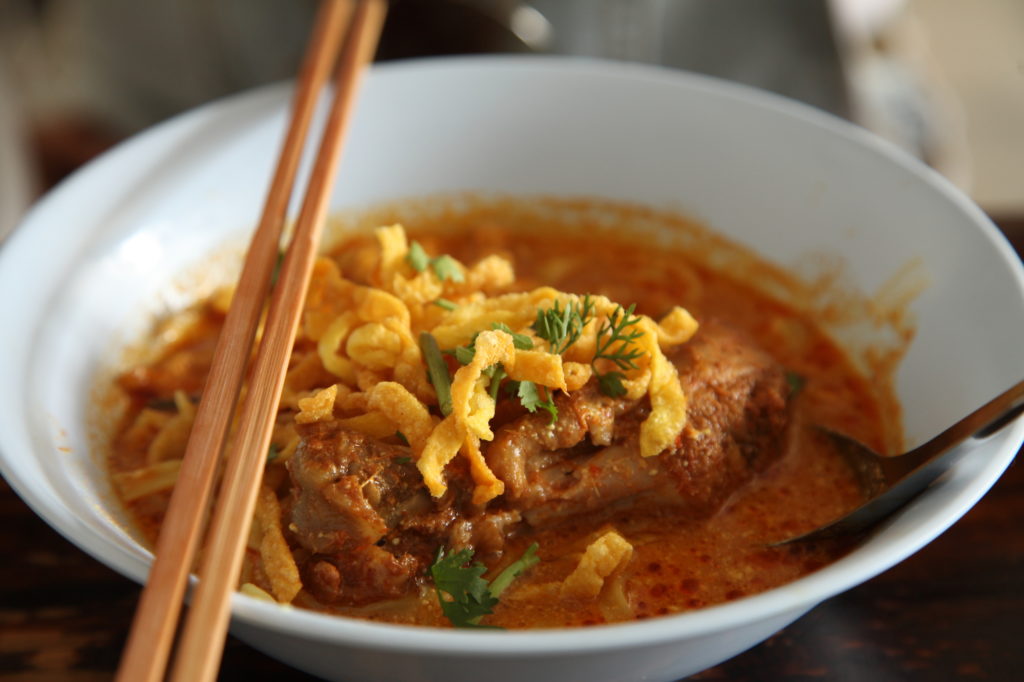 Khao Soi Gai (Chicken Khao Soi)
Transportation
Red Taxi – Red Taxis cost between 20 and 60 baht per person depending on demand.
Motorbike – I recommend renting a motorbike and getting around this way. Technically you are supposed to have an international driver's license. I'm told you need to pay a 400 baht fine if you are stopped by police.
The one time I was stopped in 2 weeks of driving, I was asked for my license. I showed my US driver's license and was told "USA okay" and free to go.
There are places to rent motorbikes all over Chiang Mai. If you rent it out for a longer period of time you can get a deal. I paid 200 baht for 1 day and then got it for 13 more days for 1,800 baht. This works out to 142 baht per day ($4.20 per day).
Uber – Uber is a relatively inexpensive option. You can get from Nimman to the old city for about 60 baht depending on demand.
Grab – Grab is an app similar to Uber and costs are also about the same.
Bicycle – I rented a bike for a couple days at 80 baht per day. You can probably make a deal and get a bike for 40 per day if you rent it for multiple days.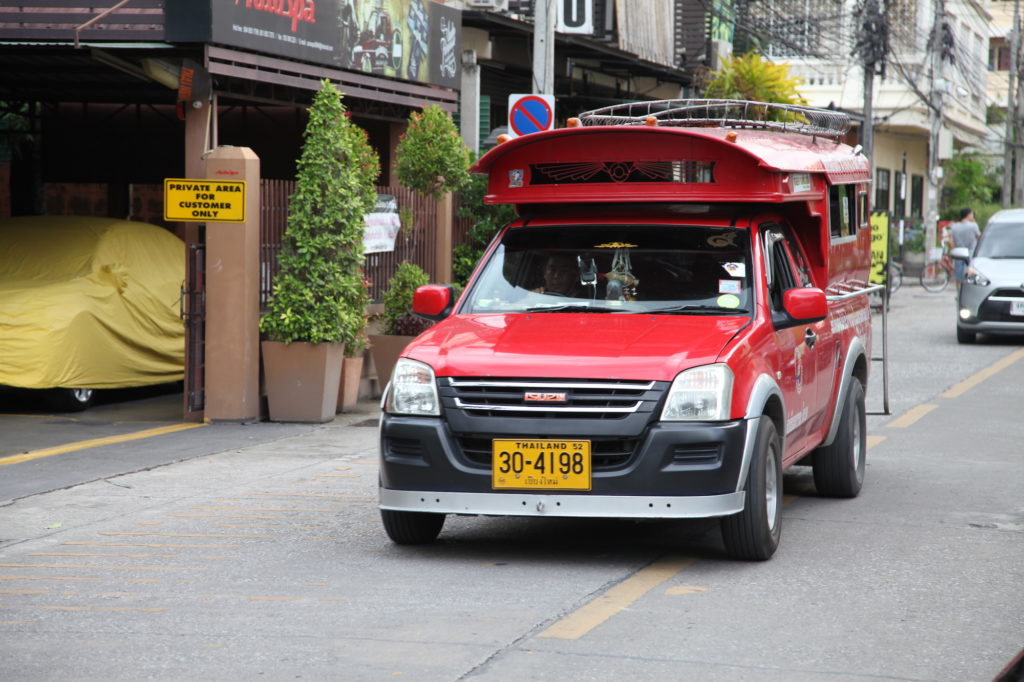 Red Taxi
Study the Thai Language
I didn't spend as much time as I would like learning Thai, but I was able to learn some basics. Below are some resources for learning Thai I found helpful.
Some places you can learn Thai in person in Thailand are:
Finding Work in Chiang Mai
Teaching English – There are a few universities around and there are foreigners that teach at these schools.
I'm not clear on the requirements for teaching English in Thailand, but look at some postings on Dave's ESL Cafe and you'll find out. One probably needs a bachelor's degree and TEFL certificate.
Digital Nomad – Chiang Mai is ground zero for creating a career on the Internet. There are hundreds of people working on the Internet here.
You can work online doing a variety of things. The most popular are:
Drop shipping
Selling physical products on Amazon using their FBA program
Teaching
Online courses
Affilate Marketing
Video Editing
Social Media Marketing
Programming
Translating
You can do freelance work through the below sites:
Or find a job with a company that allows you to work remotely:
These companies allow remote work too: Automattic, Buffer, Teleport
Or build your own business:
Work your butt off for several years.
Check out the video below about working location independently.
Co-Working Spaces in Chiang Mai
Good Internet connections are abundant in Chiang Mai at hundreds of cafes and restaurants. If you would like something quieter though, co-working spaces are a good choice. There are three main places that I found:
CAMP – CAMP is located on the top floor of Maya mall, a big mall in Nimman area. CAMP is half restaurant and half co-working space. It is fairly large. In order to get 2 hours of Internet access you need to spend around 50 baht ($1.66) on something.
M-A-N-A – M-A-N-A, also located in Nimman is my favorite co-working space. It is the cheapest option and tied for quietest space. It costs 19 baht per hour or 99 for the whole day. The only drawback is that it is small. No more than 20 people can fit if you count their private room space.
Punspace – Punspace is the most expensive option but it is also probably the best in terms of quality. The most affordable deal is 3,500 baht per month for unlimited use. This works out to about 100 baht per day ($3) if you go every day.
One location is in Nimman and not very large. It can get a little distracting with people talking. The location in the old city is ideal in my opinion since it is very quiet, just like M-A-N-A. It is also very big.
Meeting People
The best way to meet people is to go to different events around the city.
Mundo Lingo Meetup – I met the people I hung out with the most one of my first days in Chiang Mai at this meet up.
BoredBreaker – This website lists tons of events in Chiang Mai.
Nomad Coffee Club – This Facebook group has business-related meetings every Friday at 4:30 pm at Library Coffee Salad Bar Cafe Nimman, Soi 5. I met a lot of awesome people at the one event I went to here.
Chiang Mai Digital Nomads – This Facebook group is very helpful when first planning your working trip in Chiang Mai. Events around Chiang Mai are also listed and provide a way for people to connect.
Reddit Digital Nomad Group – This group was also very helpful when planning my trip to Chiang Mai. Everyone was really responsive and helpful.
Visas
Citizens from these countries have a visa exemption for 30 days.
I got a single-entry 60-day travel visa in the the US before I left for $40 USD. Click here for the application. You can mail in required documents with a prepaid return envelope. I received my visa back in about 10 days.
Phone
I didn't get a SIM car while in Chiang Mai and instead just used wifi wherever I went. I'm told AIS is an affordable option.
Map
Getting to Chiang Mai
Chiang Mai has an international airport about 10 minutes from the old city.
There are direct flights from many of the major cities in China like Beijing, Shanghai, Guangzhou, Shenzhen, and Hangzhou. I flew from Guangzhou direct to Chiang Mai on China Southern (a nice airline). The flight took about two hours.
If you have any questions about traveling or working in Chiang Mai, let me know in the comments.