If you want to learn about what it's like to teach English in China, read on.
This article is complete with images and student-made videos from my own 6 years spent teaching English in China.
It includes what it's like teaching, how to lesson plan, what your students are like, humorous student English names like Santa, class size, class length, classroom media devices, and more.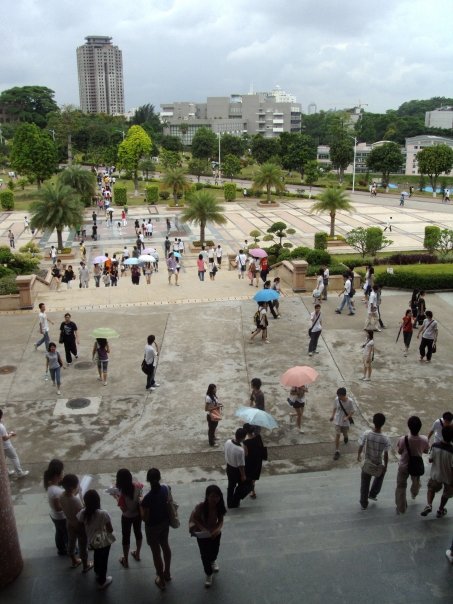 My First Experience Teaching English in China
As an FOB (fresh off the boat) foreigner in China in 2007, I taught English at a college in Guangdong province called Zhongshan Institute.
"Here is your book," the foreign teacher contact at the college told me, handing me a textbook. "But we don't want you to use it too much, we would like you to share some cultural points from American culture.
In the foreign teacher's class students would like to learn more about the teacher's culture and not learn from a book. You can find some ways to make class more funny and interesting."
At every school I have worked at in China, from middle schools to training centers, staff and students want the foreign English teacher to mainly teach students about their home culture and about themselves.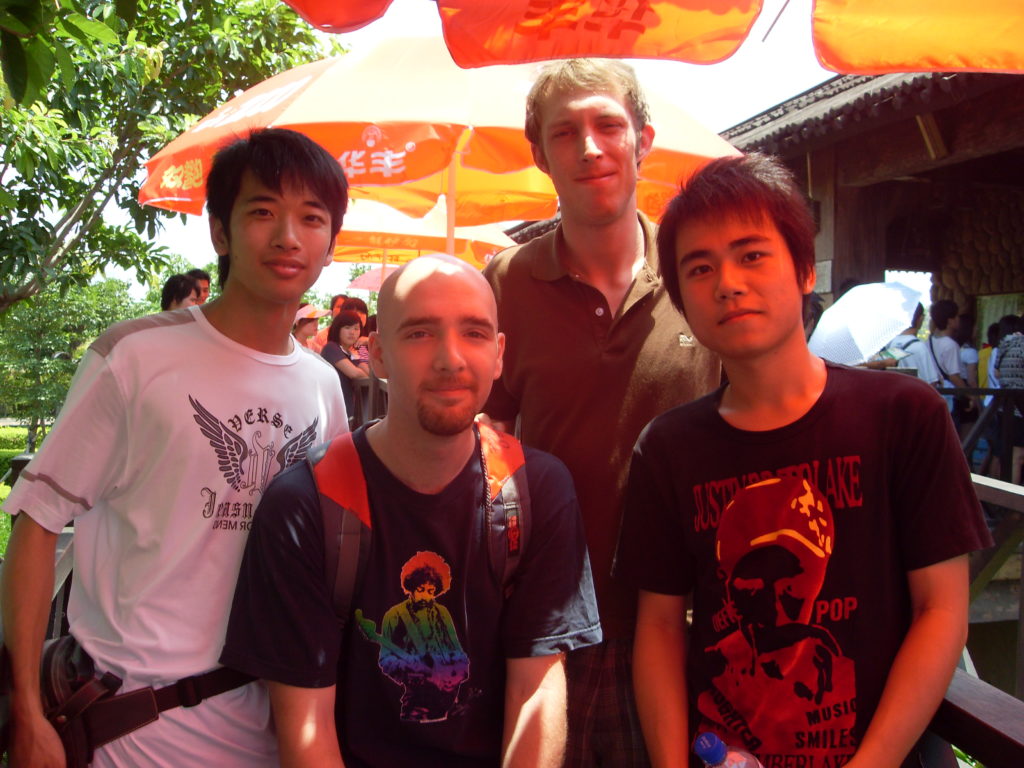 Chinese Student English Names
One of the first lessons I did with my students was have them introduce each other by telling me their English name, their Chinese name, their hobbies, and where they are from in China. This is also a great way to learn the geography of China. This is how I was first introduced to many interesting English names in China.
Chinese students frequently have humorous English names.
Over the years some of the names I've come across have been Sailor Moon (a girl who liked the Japanese anime Sailor Moon), Half Passed Eight (a humorous doctor I met at a Christmas party), and Fire Law (a young girl with a firey demeanor and hair like Buckwheat).
I've taught many a Kobe. There is one in almost every class, Chinese students are very interested in NBA. I've taught Michael Scofields. Though the TV show Prison Break was never very popular in the US where it was made, it is extremely popular in China and students frequently name themselves after the main character.
Devil was a very annoying student who kept popping up and asking the foreign teachers strange questions. His name choice was spot on.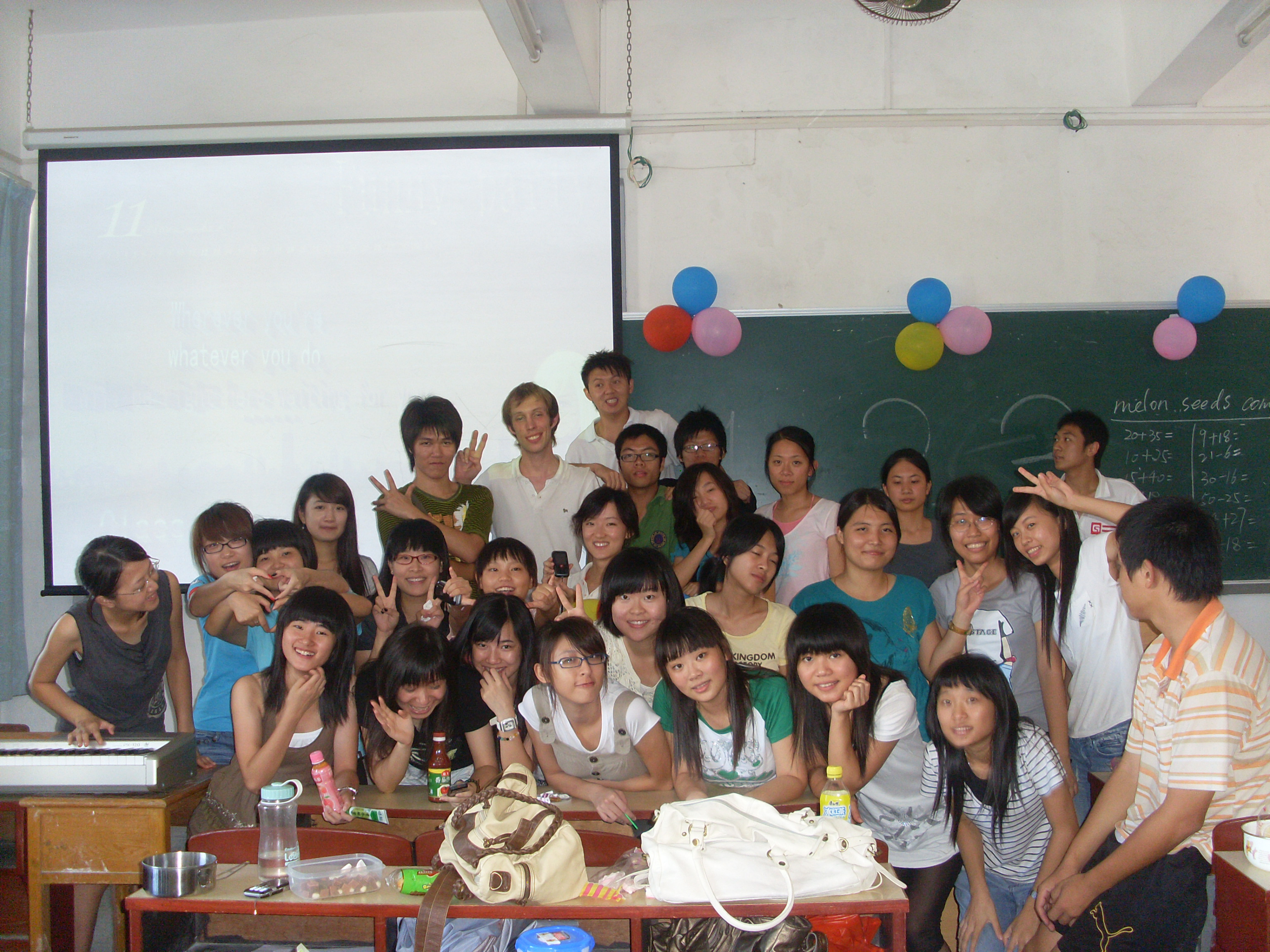 The Foreign Teacher's English Class
I used to scour the Internet for all of my favorite music (The Beatles, Bob Dylan), movies (The Shawshank Redemption), stories (The Lord of the Rings), games (celebrity), and sitcoms (Seinfeld).
Based on what I found on lesson planning websites like Dave's ESL Café and Teaching English as a Second Language, I created lessons that were interactive which involved my interests.
For example I would take a song I liked, "My Guitar Gently Weeps" and remove some of the lyrics. Then I would play the song for the students and have them fill in the blank spaces as they listened to the song.
In other classes I would share a story from my upbringing.
For example, after seeing The Fellowship of the Ring in theaters when it first came out, my brothers and I felt that because it was so good and every other activity (video games, eating, hanging out with friends, playing hockey) paled in comparison, the only thing worth doing that winter break was going to see it over and over. We ended up seeing it in theaters every other day for a week. I then had students talk about their favorite movies or share a time that they were very passionate about something.
Students really resonated with classes where I was enthusiastic about a topic and I got great feedback from students:
"I'm very happy today!" one student said to me after singing a Cascada tune in class.
"I had a dog once, but then during a time when there wasn't much food, my neighbor stole him and ate him," a student remarked to me as we chatted about experiences with pets.
I learned all about Chinese zombies and ghosts after talking about one of my favorite TV shows, The X-Files.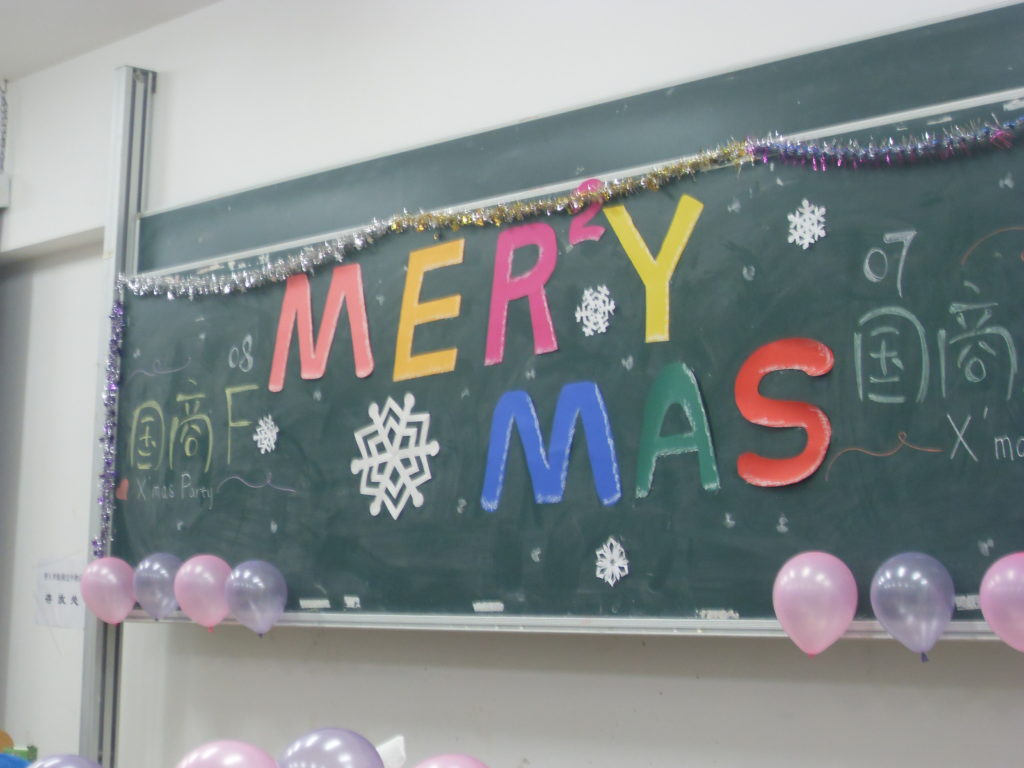 Chinese School System Organization
"Here's your class schedule. Check it out and let me know if you have any questions," my coworker said handing me my class schedule for the semester. I had been at my school for 3 weeks with no work to do and finally got my class schedule 2 days before class was to start. Why couldn't they have given this to me earlier?!
You may be surprised at how things seem to happen somewhat inefficiently in China. You need to do your best to go with the flow though and don't be afraid to make things up as you go along. This is how things work in China. It can be kind of fun and liberating.
If you crave rules and have trouble embracing uncertainty you might be in for a rude awakening living and working in China.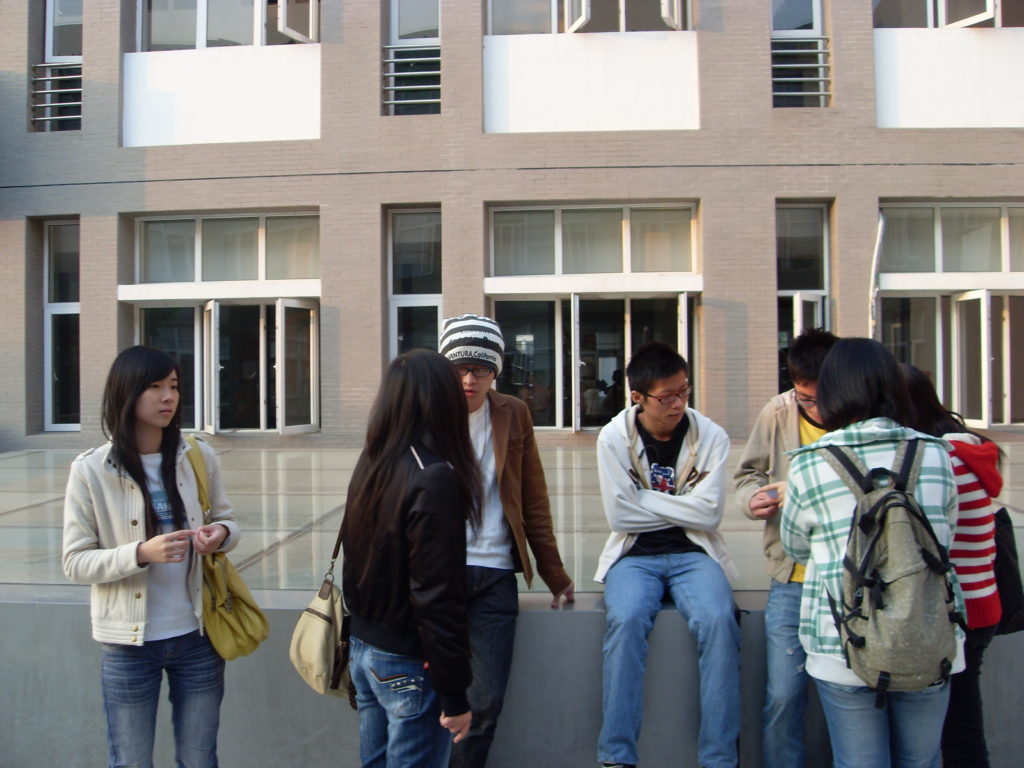 English Class Length
No matter where you teach, classes will usually consist of two back-to-back periods of 45 minutes with a ten-minute break in-between. Each day you will teach two classes on average.
English Class Size
If you are teaching in a primary school, middle school or high school the class will likely consist of 40-60 students.
Students attend every class together and do not change classmates for biology, math, etc. The cohort of students also doesn't change each semester or each year. They keep the same class until they graduate or leave that particular school.
At colleges, students keep the same cohort just like in other schools but the class size may vary depending on the school. At the school I taught at I taught mainly English major students and these 40 students were broken into two classes of 20. This made it so that students got more chances to speak with me and I could have more one-on-one time with each student.
Training center classes are extra classes outside of normal studies that parents enroll their kids in. Some examples are EF (English First) and New Oriental.
At training centers your classes can be anywhere from 3 to 30 students. Classes vary in size according to how big the center is, how many teachers they have, and how many students are able to come to class on a given day.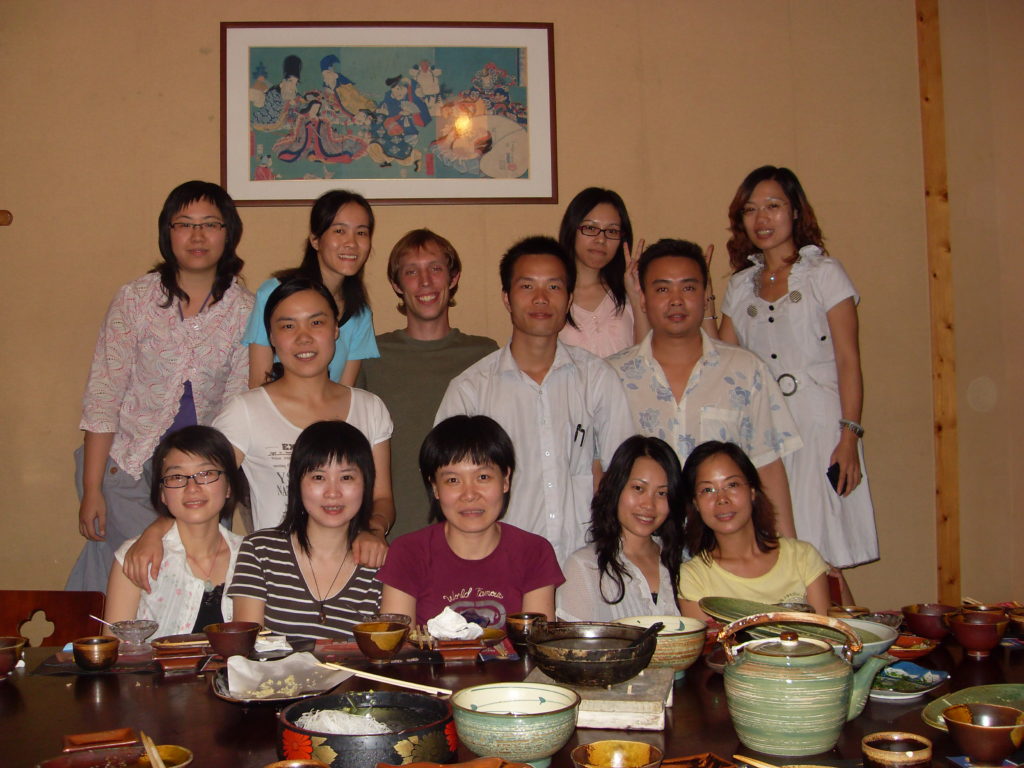 Adult Classes
Adult classes occur in the evenings when students finish their normal workday. These are some of my favorite classes to teach since the students are using their own money most of the time and really want to practice their English with you and learn from you. They are also more fun to talk to since they are similar in age with you (20-40 typically).
In these classes it's very easy to have "free talk", an open Q&A with the teacher, because classes are usually small. When classes consisted of only 2-3 students I frequently took students for walks around the city or to a café to hang out.
The evenings are the liveliest time in China as everyone is out going for a walk after supper, playing badminton in the park or playing Chinese chess on a doorstep.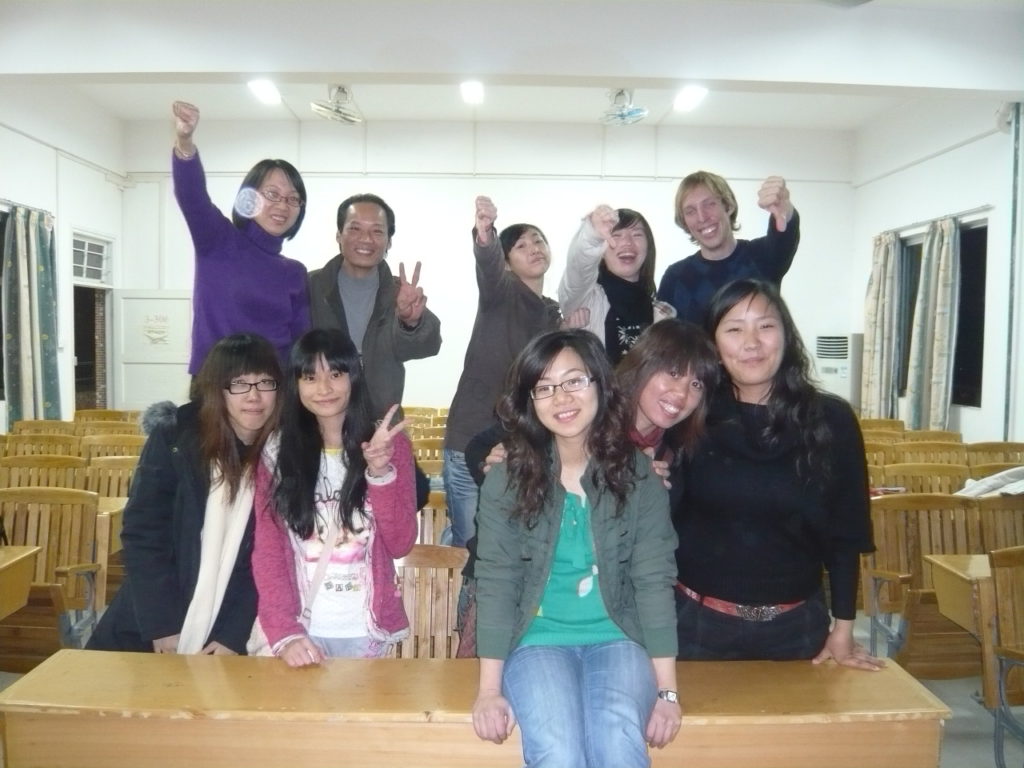 English Classroom Layout
Most classrooms have a whiteboard or blackboard, and oftentimes some type of multi-media device, which consists of a computer and a projector. You can display power point presentations, song lyrics, discussion questions, and play videos and music. Be sure you have a USB.
Try Something Different
After my first year in China I got a little bolder with my lesson plans and embarked on a two month stint to have my students write, film, and edit their own short narrative movies about what it would be like to suddenly loose the ability to speak Chinese. We filmed all over the campus and city.
Other possibilities for changing up your lesson include combining classes. Sometimes you and your coworker will want to combine classes and teach a class together. I sometimes did this when showing a film or having a talent show.
Class parties are also common and you will definitely have many of them. One of my favorite parties was a rooftop party complete with foursquare. Pic below.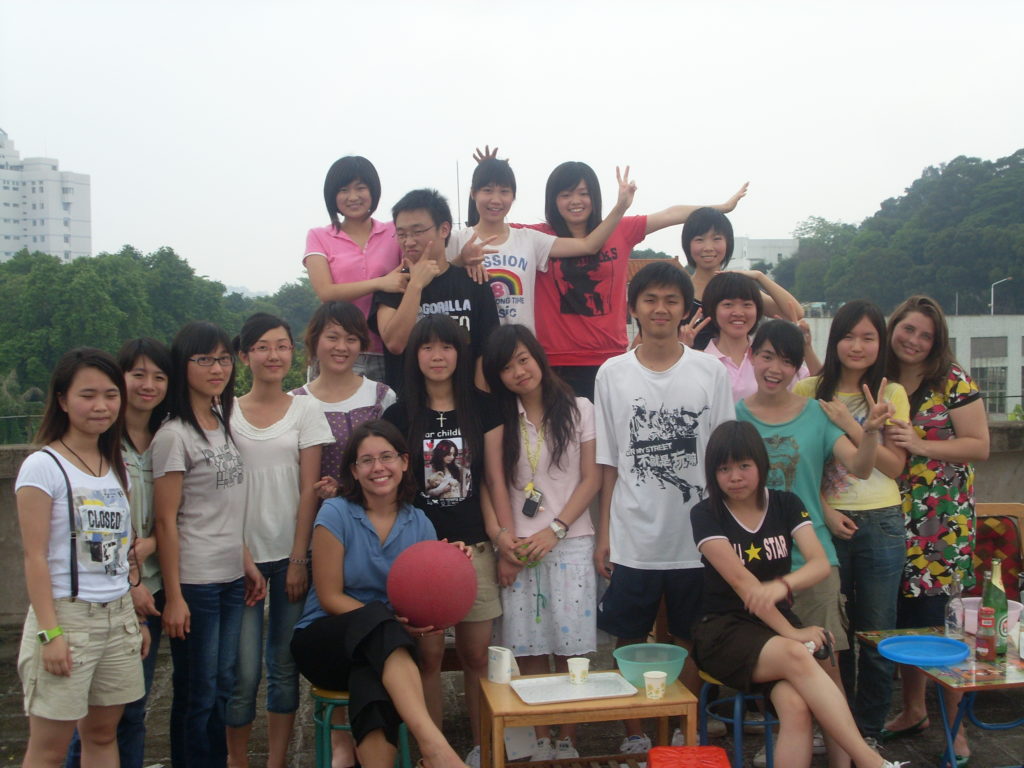 As you teach English in China you will make friends with a lot of your students and through them you will learn A TON about China. Whether you are in China to learn the language and culture, or have a sabbatical, most of your best memories and learning will come from your students. Have fun!