My most recent trip to Hong Kong included swimming at beach known as Sai Wan in the northwest of Hong Kong's New Territories. Despite a little bit of rain, and no-shark-net swimming, there was still a good amount of sun and warm water to be enjoyed. None of the other twenty people swimming yelled "shark!" even once.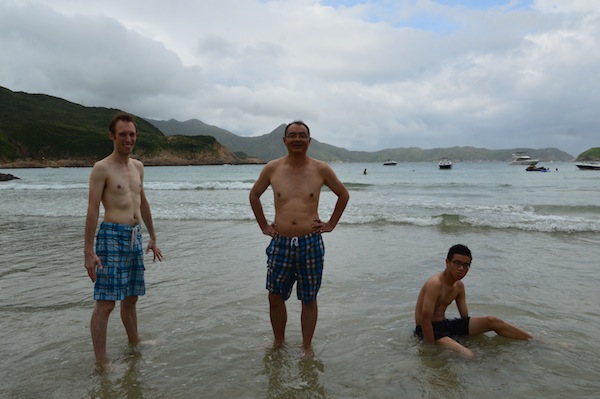 Sai Wan, Sai Kung
Sai Wan (西湾) literally means "Western Bay" in Cantonese, and is a thirty-minute downhill hike from the trailhead at Sai Wan Ting, which is a twenty-minute taxi ride from Sai Kung, the biggest town in the area and the gateway to the secluded beaches of Sai Wan, Tai Long Wan, and Ham Tin–arguably some of the best beaches in Hong Kong.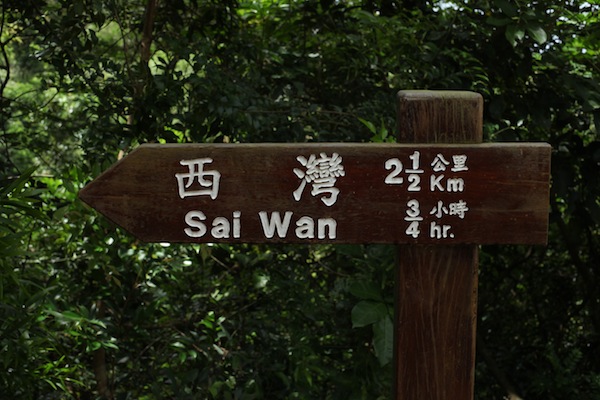 Our original plan had been to hike all the way to Tai Long Wan through the lush, green hills of Sai Kung Country Park, which is an hour's hike north from Sai Wan, and then on to Pak Tam Au, which is another hour and a half away.
But in the interest of saving time and not sweating our butts off more than necessary, we decided to just hang at Sai Long Wan for the day.
Being a two-hour journey from downtown Hong Kong, crowds at Sai Wan are almost non-existent. After a lunch of shrimp fried rice and coconuts, and trying to learn Cantonese by listening to the restaurant owner, it was time for a swim.
The water was very warm (July), there were a few boats anchored in the bay, and one or two jet skis zipped around.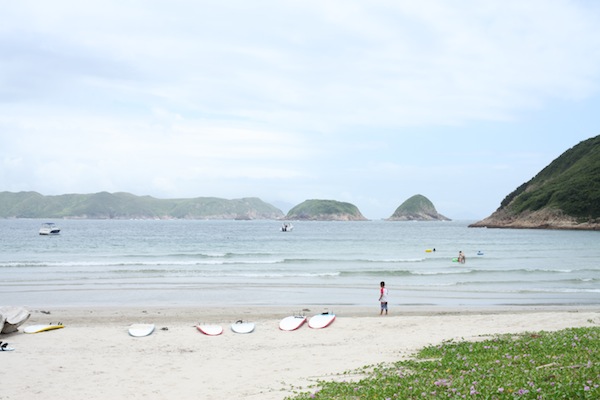 Surf Hong Kong
There are a collection of shacks around Sai Wan, Sai Kung some of which look to be of Chinese architecture in origin. Others look like they were taken from Kowloon Walled City after it was torn down and placed here. One of the latter also happened to be a surf school: Surf Hong Kong.
I had always thought about surfing in Hong Kong as it is very close to Zhongshan and I've heard that there are places good for surfing, but this was the first time I got to question some local experts about surfing in the bays here, surrounding the South China Sea.
The people running the school were from the US and Europe, one guy even had a relative who was going to St. Olaf, a college in Minnesota, where I'm from.
Prices ranged from $150 HKD (Hong Kong Dollars) to rent a board for half a day to $300 for a two-hour lesson. The best time of year in these waters is October. They have all different sizes of boards; from long boards for beginners to little boards that even experienced surfers have trouble using.
Not wanting to put anyone else to shame, I did not show off my surfing skills this time.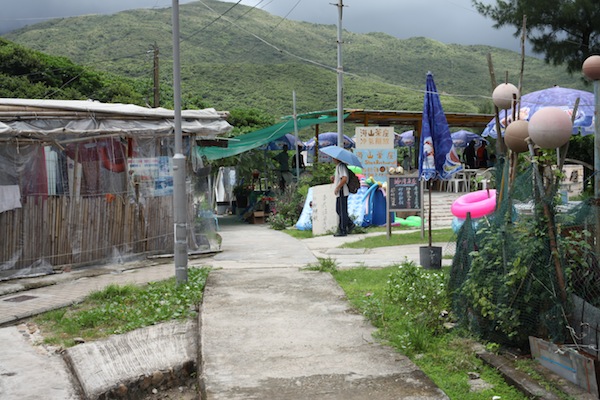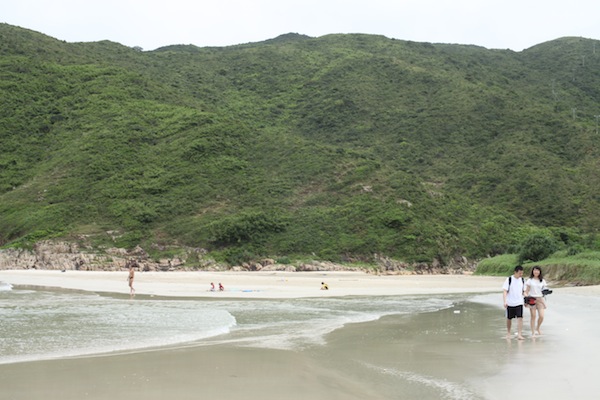 How to Get to Sai Wan
The gateway to Sai Wan and the other beaches in the area is Sai Kung.
Kowloon to Diamond Hill Subway Station: Take bus the green metro line from Kowloon to Diamond Hill: 20 minutes.
Diamond Hill to Sai Kung town: Take bus 92 from Diamond Hill station to Sai Kung: 45 minutes.
Sai Kung town to Sai Wan Ting: Take a taxi (85 Hong Kong Dollars) or white minibus near the pier (ask around) from Sai Kung town to Sai Wan Ting: 20 minutes.
Sai Wan Ting to Sai Wan: Hike thirty minutes downhill towards the ocean.
(Optional) Hike one hour north through the forest to the larger and more deserted but beautiful beaches of Ham Tin and Tai Long Wan.